ALDI
St Ives, Huntingdonshire
ALDI had been seeking representation in St Ives for many years, having successfully opened stores in nearby towns within Huntingdonshire.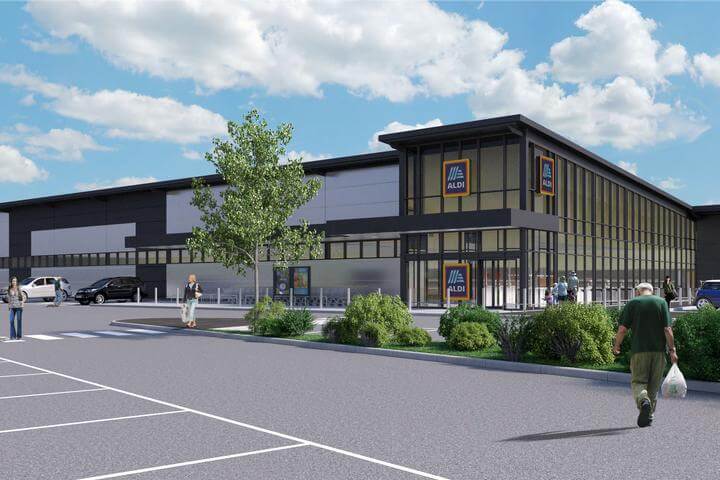 Despite determined objection from ALDI's competitors and two appearances at Committee, Planning Potential (PP) were successful in securing planning permission for a new store to serve St Ives in Huntingdonshire.
ALDI had been seeking representation in St Ives for many years, having successfully opened stores in nearby towns within Huntingdonshire. No suitable central sites were identified, leading to consideration of an allocated out of centre employment site on Stocks Bridge Way, following nearby permissions for retail and leisure uses.
Early pre-application discussions with officers at Huntingdonshire District Council were held in late 2016 to present plans for introducing the discount foodstore. It was evident that a store in St Ives would have numerous benefits; including helping to broaden the local food shop variety and reducing the need for residents to leave town to visit a discount store.
Following detailed submissions, PP were successful in securing officer support at the pre-application stage for the loss of employment land in favour of retail land, in addition to the retail impact and sequential aspects of the case. A fully scoped submission allowed for the smooth preparation of this detailed application, with PP successfully coordinating the consultant team.
As part of the pre-application stage, PP coordinated a comprehensive consultation exercise, including a mailout to over 3,000 residents and businesses seeking feedback. Meetings with local stakeholders and councillors were arranged to discuss plans in more detail, resulting in support levels reaching 85% in favour of the proposals.
A full planning application was submitted in August 2017 with PP managing the responses to various consultee comments. Detailed retail and highways objections were received from foodstore operators trading in the town, although sequential justification was provided and corroborated by the LPA's independent consultant, allowing officers to counter objections.
Extensive engagement took place between the applicant's team and the Highway Authority, with PP called upon to respond to several competitor highway objections. The team were successful in securing support of the Highway Authority, following detailed S.106 Agreement discussions, allowing for the application to progress to an initial Committee with strong recommendation for approval in October 2018.
Despite the lengthy dialogue and extensive justification submitted, the continued competitor objection meant that the application was deferred at Committee in order to allow for more highway surveys to be undertaken. The survey results helped to validate the proposal a step further, which, in turn, allowed the application to go before Committee again in March 2019.
The good relationship fostered with officers from the outset, despite some challenging circumstances, was crucial in securing a clear recommendation that Members were comfortable to support on secondary review. Following further detailed engagement around highway aspects of the S.106 Agreement and clarification on the wording of conditions, permission was granted in May 2019.
Summary of achievements
Coordinating pre-application discussions with the Local Planning Authority
Coordinating an effective consultation exercise
Securing the support of officers
Providing detailed guidance on employment land, retail impact and sequential justification
Project managing the consultant team
Speaking on behalf of the client at Committee on two occasions
Negotiating an acceptable S.106 Agreement and set of detailed planning conditions