ALDI
Newmarket, Suffolk
An effective pre-application stage including discussions with Officers and a coordinated community consultation exercise generated almost unanimous support, enabling Planning Potential to secure a delegated approval for a new ALDI store on an out-of-centre site in Newmarket.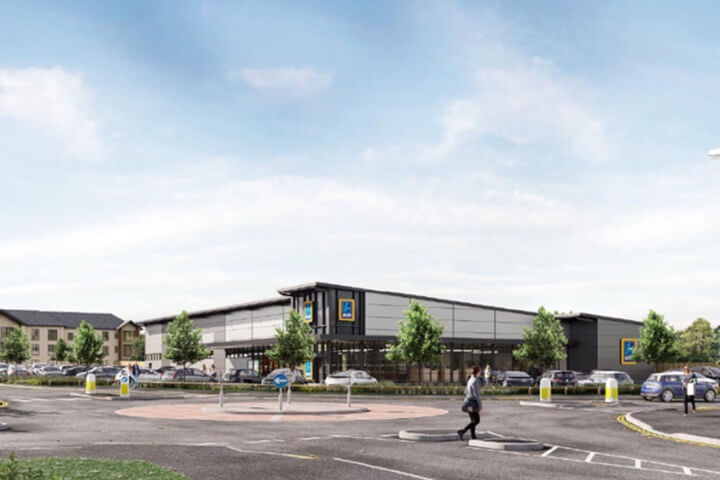 Delegated consent for a ALDI foodstore in Newmarket was granted in April 2018. This secured permission for the regeneration of a vacant brownfield site and the delivery of a new 1,730 sqm foodstore and 110 space car-park.
The site comprised a former gas works and benefitted from an emerging retail allocation and extant consent for a larger supermarket format. Planning Potential used this to their advantage and successfully engaged and negotiated with officers to highlight the specific merits of an ALDI at this out-of-centre location. This focused on ALDI's unique offer, highlighting that the store would complement rather than compete with the town centre, and have less of an impact than the previously approved scheme.
Our role was also to harness support from the local community. Working alongside our sister company, Communications Potential, we conducted an extensive community consultation exercise, engaging with local stakeholders, residents and businesses. This resulted in an almost unanimous level of support for the application – with 92 per cent of consultees expressing support for the scheme.
Planning Potential led discussions with officers and coordinated responses to consultation comments. This was particularly important when it came to the S.106 agreement, where officers were minded to carry forward the high contributions agreed for the previous scheme. Planning Potential effectively negotiated and significantly reduced the contributions for our client, arguing that the reduced impact of an ALDI would not warrant figures agreed for a large format foodstore.
Summary of achievements
Coordination of pre-application discussions with the local planning authority.
Coordination of planning application preparation and submission.
Achieving an overwhelming public consultation response, with 92% supporting proposals.
Project management of the consultant team.
S.106 negotiation.
Securing a delegated decision.