Stonegate Group (Formerly Ei Group)
The Black Hat, Ilkley
Planning Potential has once again raised the bar, securing approval for a series of enhancements that will spruce up a historic pub in Ilkley, helping Ei Group, the pub's owners, deliver its ambitious new vision for the watering hole.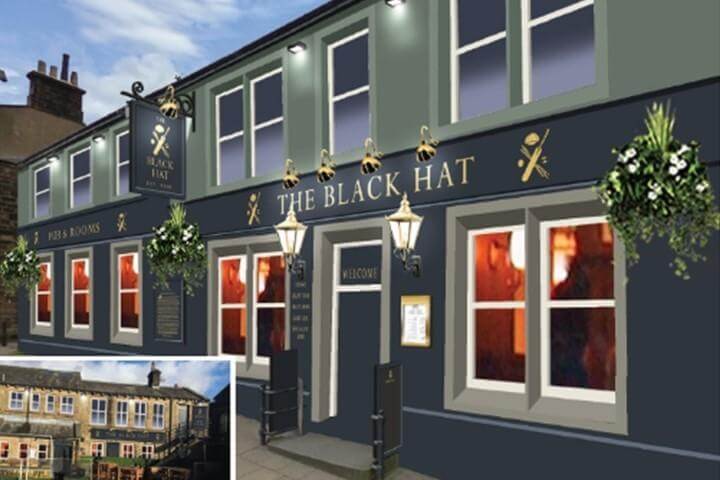 Located within the Roman Core of the Conservation Area and opposite a Grade I listed church, The Black Hat can be traced back to the 17th century and applications therefore required careful consideration. With an advertisement application needed as well as a full planning application in order to secure the external alterations, Planning Potential had to wear more than one hat, testament to our detailed planning knowledge and judgement.
It was imperative that the pub's character was retained but with eye-catching new adverts and contemporary festoon lighting sought, a robust and proportionate planning argument had to be formulated and articulated to the LPA. Underpinned by a clear understanding of the importance of the building's location and surrounding context, we successfully assessed the impact of the proposals to the satisfaction of both the client and LPA.
Despite concerns over the lighting by both the Civic Society and Conservation Officer, we rigorously analysed the current position in Ilkley and submitted focused evidence to justify the style of lighting that was desired, optimising the prospects for success. Approved well within the 8-week determination period, hats off to Planning Potential and we can't wait to pay a visit to the revamped historic pub.
Summary of achievements
Strategic advice and negotiations with council officers paved the way for the delivery of timely permissions for the client
Working proactively with the project team and council officers to agree on an acceptable scheme
Complex site with tight timescales