Private Client
Masham, Harrogate
Leveraging our innate understanding of both the local area and mixed-use projects, we have secured unanimous approval for up to 60 homes and small enterprise units in Masham in Harrogate, North Yorkshire.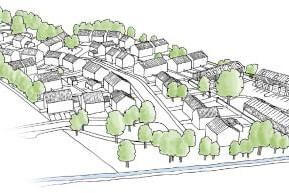 The project was not without its challenges, but by assembling and presenting a compelling planning argument, supplemented by our healthy relationship with the Local Planning Authority, we managed to navigate the complex environment and secure unanimous approval at planning committee subject to the signing of S106.
Creating a lasting legacy
Being born and bred in Masham, a local landowner and one of the largest local employers, our client was keen to develop a scheme that would benefit the local area for years to come. The final scheme, which comprised up to 60 homes, enterprise units as well as open space, reflected this. The client wanted to create a vibrant community, including highly sought after high-quality business space to rival the best in North Yorkshire, and provide the local community with a valuable asset.
This scheme is an illustration of our ability to get projects over the line. A significant amount of consideration was given to this scheme, which included a deferral from members to allow further technical information to be prepared, despite an already comprehensive application package. The project therefore demanded patience and we continued to work closely with the Council to ensure that the three dimensions to sustainable development - economic, social and environmental - were achieved.
Giving something back
Paragraph 188 of the National Planning Policy Framework highlights the importance of early engagement to improve the efficiency of the planning application system for all parties. Rational and extensive pre-application discussions not only allowed us to review and revise the scheme, but also improved outcomes for the local community, with affordable housing and a contribution for school provision secured.
A focused planning argument
Key drivers vary from project to project, and in Harrogate, a housing shortage in the absence of a five-year land supply is not the only challenge in the area and we identified other key factors local to Masham to support our case. Residential and commercial development complement one another – helping to support local amenities (through added footfall) and create a sense of place. With very little empty commercial space available across Masham, by delivering a mix of uses, we stressed the benefits of an Enterprise Zone and how it could help to foster start-up businesses, create local jobs and deliver a timely boost to the local economy.
At the second planning committee, members moved to swiftly grant planning permission unanimously, testament to our strategic and holistic approach.
Summary of achievements and benefits of the proposal
Prepared a robust and compelling planning statement to support the application
Understood the special needs and complexities of schemes designed for both commercial and residential uses
Worked closely with the Council to overcome initial statutory concerns