Inland Homes
Fairways Farm, Garston
In March 2018 Planning Potential secured permission for the development of 100 new homes, including 45 affordable units, on the Fairways Farm Site in Garston. The site benefited from an outline planning consent, and Planning Potential worked hard with the client and Three Rivers District Council to secure unanimous approval by Members, at Planning Committee, for the Reserved Matters Application.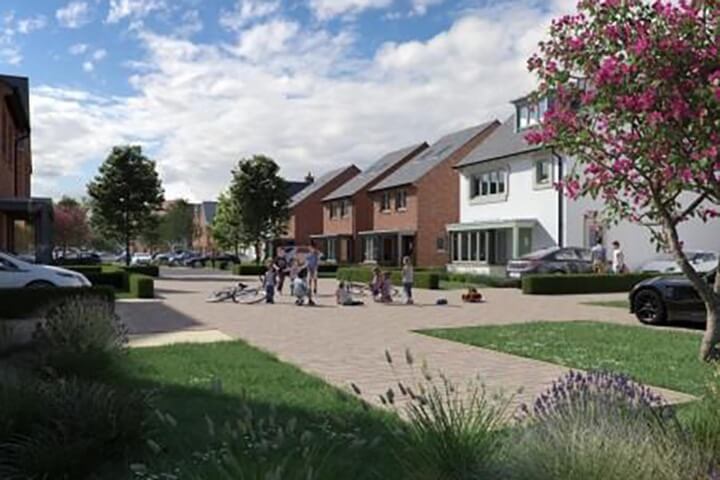 Planning Potential were instructed by Inland Homes in June 2017, to manage the preparation and submission of a planning application for the approval of Reserved Matters, pursuant to the Outline Planning Permission. The application sought to secure detailed consent for design, landscaping, layout and scale.
Outline consent was granted in April 2017, for the 'erection of up to 100 new residential dwellings (appearance, landscaping, layout and scale reserved)'. The site is greenfield, accommodating equestrian uses, and allocated for housing within the Three Rivers Local Plan.
Located directly adjacent to the M1 Motorway, partly within a flood zone (3a) and neighbour to a waste transfer site, the site was not without its issues, and the design therefore had to thoroughly consider these matters. Planning Potential worked hard with the design team, through the pre-application process to ensure the layout considered all constraints, whilst remaining policy compliant and in line with the Outline consent.
Planning Potential also worked alongside Inland's communications consultant to develop a community consultation. We assisted at a public exhibition, in September 2017, which allowed local residents to engage with the design team in the run-up to the submission of the application. The event was well attended, with over 67 people providing feedback on the scheme.
Two pre-application meeting were held with the Council, through which the design evolved, and matters agreed at outline were progressed to create a final layout which was entirely acceptable. Of upmost importance to the Council was the provision of 45% affordable housing on the site. Inland Homes ensured that this amount was met, and that the design ensured the homes to be tenure blind.
We worked hard with the planning (and housing) officers at Three Rivers Council following submission, to ensure that the scheme progressed speedily, and indeed, a unanimous decision was reached within 12 weeks of validation. Due to the detailed pre-application meetings with the Council, very few changes were made to the scheme during the planning application process.
Alongside the submission of the Reserved Matters Application, Planning Potential co-ordinated and submitted all necessary planning conditions relating to the outline consent, and successfully discharged all by April 2018, to allow Inland Homes to start on site immediately.
Fairways Farm has been an important housing allocation for much-needed homes in Three Rivers for many years, and this approval will allow Inland Homes to assist the Council in meeting their housing target. Construction is expected to start on site in Summer 2018.
Summary of achievements
Provision of pre-application advice to client and design team
Consultation with local residents
Project management
Full review of planning application documents and input into revisions
Preparation of Planning Statement and supporting forms
Full co-ordination of the reserved matters submission
Project management and submission of the outline planning permission condition submissions (pre-commencement and pre-occupation)
Monitoring of the planning application and ongoing liaison with the Council
Presentation at planning committee, concluding with a unanimous approval