Headley Park Hotel
East Hampshire
Permission secured for revisions to the scheme for a 126 bedroom hotel at Headley Park in East Hampshire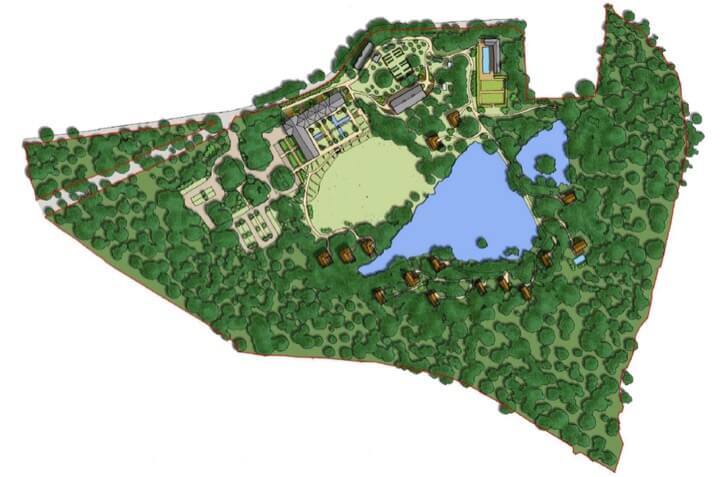 We secured permission for a similar scheme in 2017, however, when Benchmark Resources Ltd acquired the site, they contacted us to make some changes to the approved scheme.
Our client sought to rotate the main hotel building and the events barn to ensure the buildings followed Feng Shui principles and were set further from the road; improved the passive climate design and the guest approach and provided for a better visual experience between the lake and main hotel building.
The site is located within a secluded woodland setting, just beyond the boundary of the South Downs National Park. It has a countryside designation, is partly within a Site of Importance to Nature Conservation (SINC) and is adjacent to the Wealden Heaths Special Protection Area (SPA) and Broxhead and Kingsley Commons Site of Specific Scientific Interest Site (SSSI).
We were able to put forward a case demonstrating that the amendments would improve on the 2017 proposal and would integrate and respect the local environment and green corridors, whilst retaining and enhancing the biodiversity and landscape character of the site.
Leading the consultant team, we presented evidence to demonstrate that the scheme was acceptable in highways, landscape, sustainability and amenity terms.
As the application was classed as 'major development', the application was approved within a 13-week period without delay and without needing to be heard at Planning Committee.
Summary of achievements
Provision of planning advice throughout the process;
Review of co-consultants' documents prior to submission;
Preparation of a Planning Statement;
Coordination of the planning application submission; and
Application monitoring and positive engagement with the Council.