Fiorucci
Soho, London
New Fiorucci 'Concept' store approved in Soho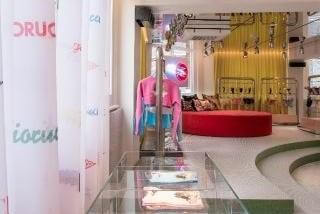 The Italian fashion label 'Fiorucci' was founded by Elio Fiorucci in 1967. Fiorucci was a retail visionary, and his New York East 59th flagship Store redefined fashion in the 70s, introducing the skinny jean and the idea of a concept store. The brand is also known to be responsible for popularising the modern styles of camouflage and leopard print.
The brand is now under new ownership and has opened its first new 'concept' store in over 20 years in Soho, selling its iconic jeans along with classic logo bombers, sweatshirts, and T-shirts. This will be a modern expression of the brand's iconic history. The shop will sell a carefully curated selection of products spanning the brands different lines, whilst creating an attractive and enjoyable experience for customers.
To bring the concept store to fruition, Planning Potential were instructed to advise on the strategy for planning and the applications required for submission to Westminster City Council. Applications were submitted for the Change of Use from Office to Retail use and for new and exciting proposals for the shopfront and signage.
We managed to put a compelling case together, and the applications were all approved under delegated authority in the 8-week period with no objections.
Summary of achievements
Strategic planning advice on proposals and strategy
Preparation and coordination of the submission of 3 planning applications and 1 advertisement consent application (including for the liaison with co-consultants to prepare the material)
Successful monitoring and overall management of the project culminating in an approval for all elements without conceding on design in the 8-week period with no objections