Young & Co.'s Brewery PLC
The Weyside, Guildford
New riverside roof terrace and Public House extension approved without the need for a lengthy Pre-application process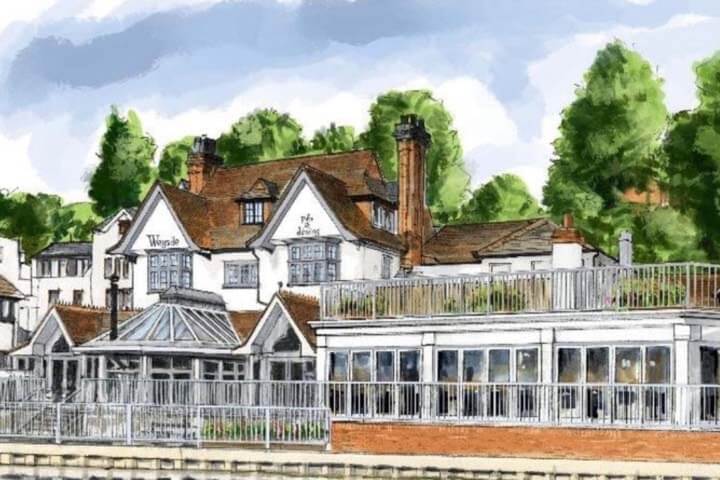 Customers now seek beer gardens and attractive terraces so that food and drink can be enjoyed outside, particularly during summer months. Pubs need to trade flexibly and have every opportunity to allow for external seating.
The Weyside is a popular gastropub sited on the River Wey in Guildford. There is significant demand in the summer months for guests to enjoy food and drinks over the river, yet much of the outside trading space was located in the old carpark by the main road without any views.
We proposed a new glazed extension with roof terrace above. The proposals also included for a new plant area and an improved kitchen facility to enhance the food offer.
During the process, the Council raised concern that the site was located within the Greenbelt. However, we were able to identify an issue with the Council's GIS mapping system, proving that the site was not located within the Greenbelt. The error was subsequently corrected.
Through entering into a Planning Performance Agreement (PPA) with the Council and working constructively together, we managed to secure this tricky permission within the 8-week determination period. This was a brilliant result for our client.
Summary of achievements
Provision of planning advice throughout the process;
Review of co-consultants' documents prior to submission;
Preparation of a Planning Statement and justification of proposals;
Coordination of the planning application submission; and
Application monitoring and positive engagement with the Council.