Maggie's
Royal Free Hospital, Hampstead
Planning Potential has been working with Daniel Libeskind and the Royal Free London NHS Foundation Trust to design a new Maggie's centre at the Royal Free Hospital.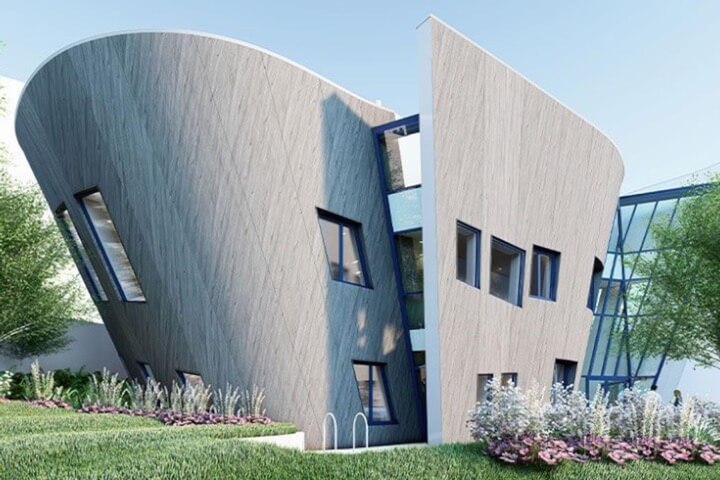 Maggie's provides free practical, emotional and social support to people with cancer and their family and friends. Built in the grounds of NHS hospitals where cancer treatment is delivered, Maggie's centres are places where qualified experts provide emotional support; places to find practical advice; places to meet other people; and places where people can simply sit quietly with a cup of tea.
The new Maggie's centre at the Royal Free Hospital has been designed by world renowned architect Daniel Libeskind whose architectural practice, Studio Libeskind, creates architecture that is resonant, practical and sustainable and is renowned for its ability to create landmark structures using both innovative and traditional building solutions. The new centre is proposed in the Southern Car Park at the hospital.
Although limited in size, the site will be landscaped with both soft and hardscape areas and will offer quiet seating as well as connecting to existing pavements and hospital entrances. The proposed timber building will be surrounded by a new planted garden area in the car park. There will be a net biodiversity gain as a result of the proposed development as a result of introducing native planting and a sedum roof.
A garden is also proposed at the roof level which will create a serene enclosure for visitors, a peaceful outdoor retreat that aligns with the canopies of the surrounding foliage. Timber has been chosen as a renewable material to emphasise the building's human character, and to further differentiate it from its surroundings.
The project team has carefully considered the construction programme to ensure minimal disruption to the hospital users and nearby residents. The façade will be manufactured off site in sections and assembled on site. Vehicle movements will be kept to a minimum. A detailed draft Construction Management Plan has been drafted and agreed with the hospital, TfL and Camden council.
Working closely with officers at Camden Council, the proposal has evolved following the initial pre-application discussions, and the Design Review Panel and has been shaped by comments received at two consultation events held at the hospital.
The Royal Free London NHS Foundation Trust endorsed these proposals and fully supported the scheme. Local Conservation Advisory Groups and Ward Councillors were also consulted to explain the proposals and the design evolution.
The application was submitted in September 2019 and granted approval subject to the s106 for the Construction Management Plan in December 2019. We are looking to deliver an extraordinary building to meet an undeniably valuable need, and we are pleased that the planning process has been straightforward to enable construction to commence in 2020.
Summary of achievements
Provision of strategy advice and liaison with a large consultant team
Pre-application advice
Presentation at the Council's Design Review Panel
Provision of communication services, including holding two public exhibitions and members briefing
Coordination of the application submission, including the preparation of a Planning Statement
Ongoing liaison with the Local Planning Authority and other Statutory Consultees
Securing a delegated approval