Lawford & Sons Ltd and Capital Homes
New Kent Road
Planning Potential secured a unanimous resolution to grant planning permission for the development of 81 new homes, to replace a 2 storey Kwik-Fit building.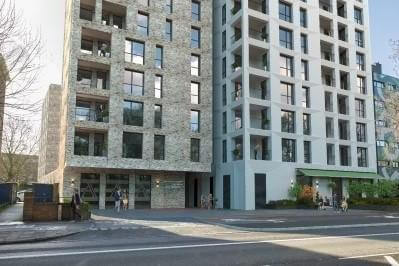 Planning Potential were instructed by Lawford & Sons Ltd and Capital Homes in March 2017, Pre-application discussions were held with both the GLA and the Southwark Council, followed by the submission of a detailed Planning Application.
The site is located close to Elephant and Castle, and within an Opportunity Area. The proposals for the site needed to address the setting of the nearby listed buildings and immediate neighbours.
At Pre-application stage, we held a public exhibition, which provided local residents with an introduction to the client and the proposals for the site.
Our involvement with the site also included the submission of detailed representations to the New Southwark Plan, to promote the site for a high-quality, mixed-use scheme. The New Southwark Plan is expected to be submitted for examination in early 2019, and we will continue to promote the site on behalf of our client, through this process.
Planning Potential worked very closely with the client's architects, to create a scheme which was policy compliant and enabled the site to be developed to its full potential, without impacting on strategic views or listed buildings. A key benefit of the scheme was the provision of a policy compliant level of affordable housing, including social rent family units.
We ensured there was constant and detailed liaison with the Council to ensure that the application progressed towards a positive recommendation, including post-submission meetings with relevant officers, workshops with our client's architects, and the preparation of detailed responses where necessary. This scheme was presented to Planning Committee in July 2018. Members were supportive of the scheme, and specifically of the affordable housing provision and the high-quality design. A unanimous decision was reached in support of the scheme.
The decision is subject to the signing of a Section 106 agreement, and referral to the GLA. Planning Potential are continuing to work closely with the Council and the GLA, to complete the agreement.
This project is a significant achievement for Planning Potential, and the first major development for Capital Homes. It is hoped that construction will start on site towards the end of 2018.
Summary of achievements
Provision of detailed pre-application advice to the client and design team
Beneficial consultation with local residents and stakeholders
Preparation of a robust Planning Statement
Full co-ordination and preparation of a detailed planning submission, which achieved prompt validation with the Council
Formation of a strong working relationship with the Council and the GLA
Swift and robust responses to comments received during the consultation period
A unanimous decision at Planning Committee to grant permission
Involvement in the drafting and negotiation of the Section 106 Agreement
Project management