News
GLA publishes the London Housing Strategy setting out key priorities for tackling the housing shortage in the Capital
25 May 2018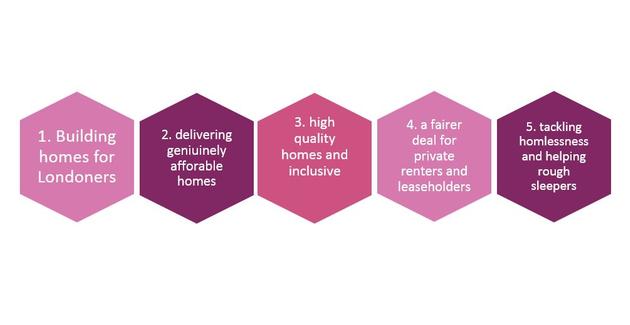 This week the Greater London Authority published the London Housing Strategy following the consultation on a draft version published September 2017.
The London Housing Strategy sets out the Mayor's five key priorities to fix the city's housing crisis and his vision to provide all Londoners with a good quality and "genuinely affordable" home. Alongside the framework, the Mayor pledges a £4.8bn affordable investment up to 2022, his long-term ambitions for the future and a high-level implementation plan setting out targets or milestones and headline indicators of success.
The strategy's central priority is to meet London's housing need in full, with an emphasis on delivering affordable homes whilst protecting Green Belt and open spaces through supporting higher-density development on brownfield sites. The strategy also outlines the role of housing associations, small builders, developers and community organisations to tackle the crisis, and sets out the Mayor's arguments for an increase in investment from the Government and radical boost in the powers available to City Hall and London boroughs to get more houses built.
Many of the key proposals outlined in the Housing Strategy reflect those we recently saw in the draft London Plan published last November, including an overall target of 65,000 homes per year based on local targets. Furthermore, the strategy has continued to include the Government's definition of 'affordable', at up to 80% of market rent.
The Housing Strategy also seeks to address concerns on the impact of estate regeneration through introducing more efforts to protect London's existing social housing and ensuring existing resident's views are properly heard and taken seriously. The strategy re-confirms the Mayor's commitment to resident ballots ahead of estate regeneration schemes as a requirement to GLA funding, stating "For large schemes where demolition is involved, he will only agree to provide funding where there has been a successful ballot of existing residents".
The Mayor also seeks to combat 'land banking' in the capital through encouraging effective measures to get homes built faster, including gathering evidence in relation to reviewing unimplemented planning permissions.
Alongside housing delivery, the Mayor will also raise the standards of London homes through releasing new supplementary planning guidance on housing design. This will include guidance on "optimising density, design codes for more homes on small sites, and practical guidance on how different typologies can successfully achieve high density in a range of settings".
The Mayor has also announced that all 33 London Local Authorities have signed up to his 'Rogue Landlord and Agent Checker' - an important milestone in protecting London's renters. The Mayor believes that the public database, published on the City Hall website, will give Londoners greater confidence in renting a home.
The strategy will be considered by the London Assembly at its next meeting on 21st June.