News
Couple prosecuted for unlawfully converting and concealing secret house behind a garage door
14 February 2018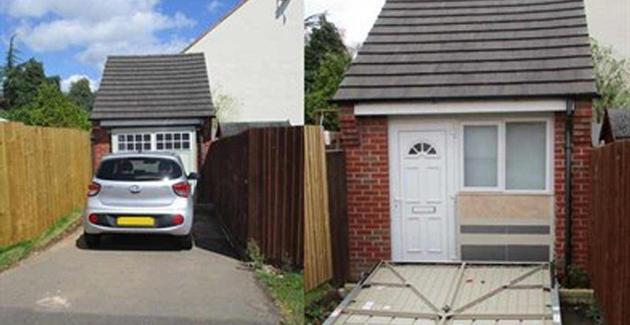 Image Source: The Independent
A cautionary tale has been in the news this week for anyone who has ever wanted to break a planning condition and hoped the local planning enforcement team wouldn't notice. Reeta Herzallah and Hamdi Almarsi obtained planning permission for a development back in 2007, which included conditions stating the car parking facilities including the garage should remain in perpetuity.
However, little to the Council's knowledge, they decided, without permission, to convert the garage into a secret home, complete with front door and windows hidden behind the garage door. Somehow the home remained hidden for eight years until enforcement investigations, launched in 2015, revealed the breach in planning control.
The couple submitted a retrospective planning application to obtain consent for the works in 2016, but this was refused, and subsequently dismissed at an appeal last February, with the couple instructed to restore the garage to its former state.
After further investigations, last November, it revealed that the required works to the garage had still not been undertaken, the Council then took the case to prosecution.
At Leicester Magistrates' Court, they were each fined £770 and ordered to pay legal costs of £1,250.
Although this case is not as serious as the one involving Robert Fidler who built a castle behind haystacks back in 2001, and fought a 6-year planning battle, it should remind people that there can be damming repercussions for breaching planning conditions. No matter how long you think you can get away with it, sooner or later a neighbour or passer-by will tip-off the council.
If you have any conditions attached to your permission that you would like to seek to vary, don't try to fly under the radar, contact Planning Potential's expert team of consultants to find out how we can help.