News
Could London really be getting more affordable?
11 April 2019
The affordability data showed that the cost of homes relative to incomes across England and Wales flatlined last year, after four years of rapid increase
The Office for National Statistics (ONS) recently published its annual figures on housing affordability. Planning Potential decided to dig a little deeper into the numbers, unpacking what the new figures mean in real terms. Specifically, whether five-year housing land supply will be brought into question both for authorities that could demonstrate adequate housing land supply prior to publication, and for those that couldn't.
The affordability data showed that the cost of homes relative to incomes across England and Wales flatlined last year, after four years of rapid increase. On average, homes are worth 7.8 times median income (with mortgages typically obtained at a rate of 4 to 5 times median income, it's no surprise that so many people are struggling to get onto the housing ladder!). The ONS data showed that new-build homes were estimated to be "significantly less affordable" than existing dwellings:
"In 2018, full-time employees in England and Wales could typically expect to spend 9.6 times their median gross annual earnings on purchasing a newly-built property."
Delving into the data further reveals that, at a local level, the affordability ratio increased by almost 20 per cent in some areas and dropped by 14 per cent in others. 58 per cent of local authorities saw affordability worsen. Moreover, homes in both the cheapest and most expensive areas became more affordable, with the middle ground seeing affordability ratios worsen. Surprisingly, the data showed an affordability improvement in 55 per cent of London authorities.
The affordability data becomes the crux of the new Housing Delivery Test by way of the 'affordability adjustment' applied under the new standard method. This means that any changes in affordability feed through to local housing requirements and five year housing land supply calculations. The affordability adjustment involves altering household growth projections using median affordability ratios at a local authority level. Where house prices are more than four times average earnings, the affordability adjustment increases the housing need figure by 0.25 per cent for each 1 per cent the affordability ratio rises above 4 (capped at 40 percent above the local plan housing requirement if the plan was adopted in the last five years).
Whilst one would imagine this affordability data could have a significant impact on housing need calculations, the results have been somewhat insignificant. Even the authority with the biggest affordability drop (see chart below) only sees its assessment of need rise by 6.8 per cent. The practical impact of any changes on local planning authorities is limited by the fact that any housing need calculation is protected for two years in the plan-making process from the point of submission to an examiner.
In areas subject to the 40 per cent cap on increases under the standard method, the new figures will make no difference at all to the calculated need. For example, high value London boroughs such as Wandsworth and Islington, where affordability has improved following recent house price drops, see no reduction in their calculated housing need. In fact, more than 8 out of 10 London boroughs, and more than half of authorities in the south east, see no change in their standard method figure.
However, whilst the actual figures may result in minimal changes to housing need calculations, for authorities that are on the cusp of evidencing a five-year housing land supply, minimal changes are enough to either tip an authority into 'presumption in favour' territory, or save them from it. This is particularly troubling for those authorities without an up-to-date plan, meaning the standard method assessment of need is used to determine the five-year housing land supply figure, making them vulnerable at appeal.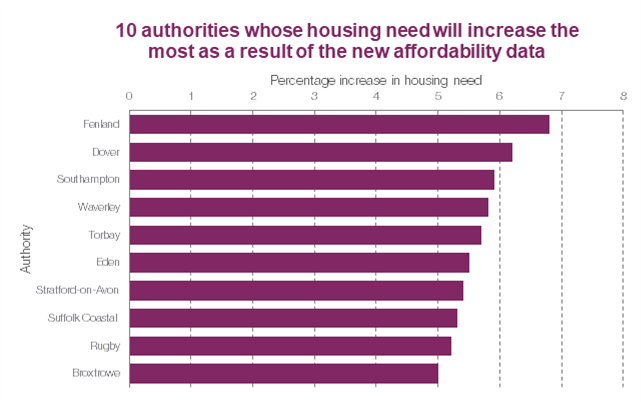 The residential team at Planning Potential are keeping a very close eye on the implicaitons of the affordability data published, as well as the Housing Delivery Test more generally. Feel free to contact a member of the team on 020 7357 8000, or by email [email protected]uk, for more information.