News
Consent secured for new corporate headquarters for Anglo American & De Beers
20 December 2017
The unanimous planning committee decision will see the return of the historic company to its Hatton Garden home, placing it once again at the heart of London's jewellery community.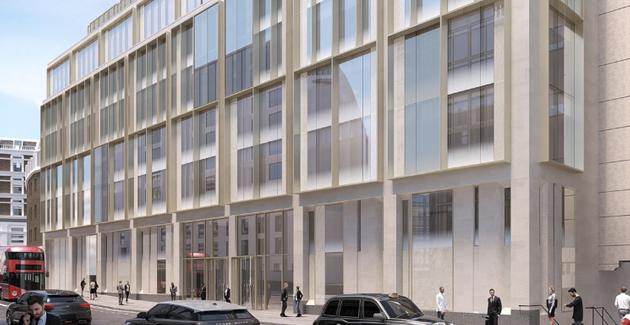 Planning Potential was delighted to secure consent last week for a new corporate headquarters for Anglo American & De Beers. The site, on Charterhouse Street, is in the centre of the Hatton Garden Conservation Area and is currently occupied by the vacant former headquarters of De Beers, the majority of which was constructed in the 1970s with extensions added in the 2000s. It is also home to St Andrew's House, a Grade-II listed building recognised as one of the oldest surviving examples of public housing in the UK.
With the building unfit in its present state for the needs of a modern business, De Beers took the decision in March 2017 to move from the site to join parent company Anglo American in Carlton House Terrace, Westminster. However, a desire to return to Hatton Garden and the centre of the jewellery trade presented an opportunity for the full redevelopment and refurbishment of the old site to create a high quality new corporate headquarters designed specifically to meet their requirements.
Throughout the pre-application process, we advised on the development of a sensitive scheme that would preserve the overall character of the Conservation Area but soften the 1970s exterior, transforming the previous 'fortress-like' appearance. With heritage a key-concern from the Local Authority we held a series of design workshops with Planning, Conservation and Heritage Officers establishing that the scale and principle of the proposed changes was acceptable.
The return of a well-known name to the area meant the scheme attracted a great deal of attention from the local community and we were keen to ensure everyone was given an opportunity to view and feedback on the proposals. A full public consultation resulted in a considerable amount of very positive feedback, with local residents and businesses recognising the benefits of one of the biggest names in the jewellery trade returning to the area. We ensured this positive feedback was heard by the Local Planning Authority.
This was emphasised by the fact that no objections to the application were received, quite a feat for an application of this scale. The scheme went on to receive unanimous approval at Camden's Planning Committee.
Construction is set to begin in the new year with Anglo American & De Beers due to occupy the building in 2020.