ALDI
Sprowston Road, Norwich
Permission was secured for a mixed-use scheme featuring an Aldi food store in Norwich. Building on an existing permission, we demonstrated that revised proposals would deliver short-term regeneration, investment and job creation to this area of the city.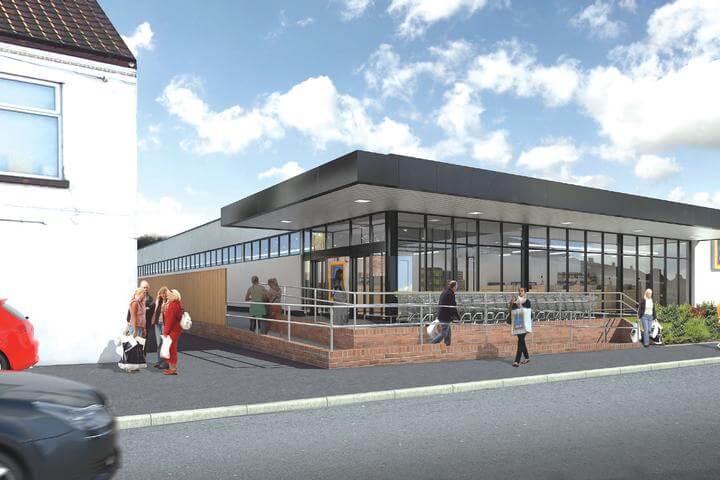 Instructed by Aldi to progress revised proposals to an existing permission for a mixed-use scheme, we secured permission for a foodstore, while gifting land for affordable residential units to be progressed by a local housing association.
The site and adjacent land had for many years been allocated for housing. However, four years after the original permission was secured, we were successful in promoting the site as a mixed-use site, to include a foodstore.
We were successful in promoting the revised proposals to officers, local stakeholders and residents via a consultation exercise. We secured a 90-plus per cent positive response to the proposals from the local community and the support of ward councillors. We successfully argued that the foodstore would need to be a priority development in order to secure the additional benefit of the adjacent land for housing.
The proposals were unanimously supported by members at planning committee within the 13-week determination period.
Benefits of the development include
Delivering a new foodstore proposition to the town
Increasing footfall to the local shopping centre
Creating additional residential accommodation in the town
Adding shared car parking facilities to overcome local highways issues
Creating jobs and providing investment in and short-term regeneration of the local economy
Summary of achievements
Coordinating the preparation and submission of a revised planning application
Provision of a planning and retail assessment
Coordination of a successful consultation exercise
Achieving 90%-plus positive response to revised proposals from local community
Securing permission, with unanimous support at committee, within 13 weeks
Negotiated S106 Agreement
Permission secured in June 2013